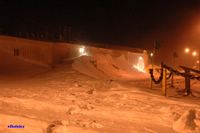 On Friday, over a hundred people spent all day
digging out after our big Condition 1 storm. In four
years, I've never seen this much snow at one time
here. Just going to bowling on Thursday night involved
walking through two foot drifts, and that was probably
one of the smaller drifts in town. You really get an
appreciation of how big the machinery is here when
just the scoop section of a loader is as big as a car.
I walked out the door to B-155 today and that's the
first thing I saw. A loader removing a thousand pounds
of snow from the building entrance. This particular
picture shows the loading dock area of Building 155
after the storm. Those drifts are about 20 feet high.
After the day of snow removal, none of this remained.