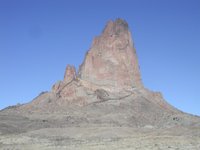 Agathla Peak, or El Capitan as it is also known, is a
very large volcanic plug that rises 1500 feet above
the valley floor, north of Kayenta Arizona. There are
dozens of these in the Four Corners area, the most
famous of which is Shiprock, in northwest New Mexico.
Agathla was originally a large volcano on the Colorado
Plateau but when it became dormant millions of years
ago, erosion took it's toll and all but the core
weathered away. It's visible for miles around and is
a major landmark in the Kayenta Valley.